The Republic of Gambia has sent athletes to every Summer Olympics since 1984, but, understandably given the country's climate, has never once participated in a Winter Olympics. Amadou Krubally is trying to change that.
Krubally hopes to secure a spot in the skeleton slope at the Beijing's 2022 games and has set up a GoFundMe campaign to help fund his bid. Skeleton is a daring sport in which competitors careen head-first down an icy slope on a small sled, with nothing but a helmet to protect them. They can reach speeds of up to 140km/hr and steer by making minute posture adjustments. But the really tough part is raising the funds: Krubally hopes to raise EU 15,000, which he says will cover the cost of entrance fees for the qualifying rounds.
It's an admirable goal, but it raises the question: just how does a Gambian hit the ice? Well, it wasn't in The Gambia that Krubally first got his taste for cold-weather sports. Krubally's wife is Swiss, and he first took up skiing after moving to her home country. But it turned out he had bigger aspirations than to see the Alps a couple of times a year.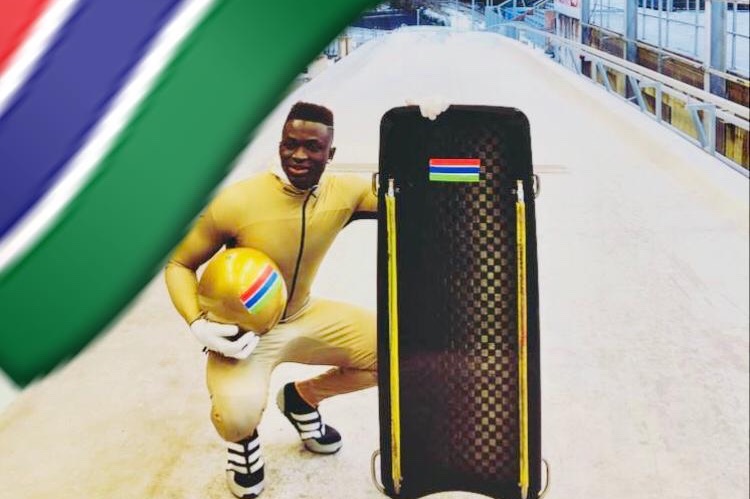 We talked to him about how he got involved in skeleton and his plans to become the first Winter Olympian to represent The Gambia.
First, can you tell me about your athletic background?
I was born into an athletic family. My mother and sister were both sprinters. I began running at an early age in my primary school years and continued with that even when I was in the sports company of the Gambian army: that allowed me to be part of the national athletics team. During that time, I did mostly sprints of 100m/200m. When I came to Switzerland, my wife enrolled me at an athletics club in Zurich. In my free time I also enjoy playing football.
What led to you choosing skeleton as your Olympic sport?
A member of my athletics club, Maximilian Goldmann, first told me about the sport. We realized no one had done it for The Gambia and that in fact, my country had never competed at the Winter Olympic Games at all. I would really like to do something for my country. I want to show that Gambians can achieve anything they want to.
On your GoFundMe page, you describe yourself as "a crazy guy doing a crazy sport." It certainly takes a certain type of crazy to throw yourself head-first down the ice! Have you always been so adventurous?
Yes, I think so. I grew up in a big but poor family and I've learned that new opportunities open up only when your trying new things. I always had to have a strong will to be brave to survive. Now I think that trying new things and being brave is part of my DNA. I also like discovering the culture of Switzerland, which is why I originally tried out skiing. Now I really enjoy doing that with my in-laws. My love for skiing and my will to try new things led me to trying skeleton.
How much progress have you been able to make in your Skeleton practice?
It is not easy in Switzerland, as our funds are limited. I am currently training in Winterberg and was in Innsbruck for a week last season. In the long run, we plan to develop Gambian athletes back in The Gambia, and maybe even establish a Bobsleigh team. Gambians are excellent sprinters. The most important thing is the start, which can also be practiced without ice. I hope we can have a few weeks of training in Europe later, just like I am doing now.
What will your training be like for the upcoming season and what challenges will you face in preparing?
I am planning to compete at the Europe Cups in Winterberg and Königssee in December and then attend a development camp in La Plagne in March. The main challenge right now is funding. As you know, The Gambia is a poor country, so there are only limited funds there, which is why we are looking for help to make this dream come true and put The Gambia in the limelight.
What kind of support have you received so far? What are peoples' reactions when you tell them you are trying to do skeleton in Gambia?
Most people find it amazing. It reminds them of the movie Cool Runnings and I think they feel inspired. I get support from the international skeleton and bobsleigh community, and as I mentioned, Max and his sister have been supporting me greatly in founding my own federation and developing a training plan. Another friend drove me to Winterberg, I got tips and tricks from a guy from the Netherlands, and the French man gave me a suit for my training. The support I receive is heartwarming. Some Gambians also helped me found the federation and are spreading the word. In terms of funds we haven't got a lot of support yet, which is why we have the GoFundMe active and why we are looking for sponsors.
Gambia has never competed in the Winter Olympics before. What would it mean to you to become the first Gambian to fill that role? What would it mean to your county?
To me, it would be a great honor and I would feel really blessed if I made that possible for my country. I would feel like I had created a legacy. I hope it will help the world to see The Gambia and for The Gambia to see the world. The Gambia might be very poor, but we have all it takes to become whatever we want to become, and I would like to show that to my fellow Gambians. I also hope to create some jobs there if we are able to create a bobsleigh/skeleton team and other winter sports teams.
Inspired? Donate to Amadou Krubally's campaign here.
READ: The American Skier Who Became Chinese to Compete in Beijing 2022
Images: Wikimedia Commons, courtsey of Amadou Krubally, Ecns